Using CareCredit for Durable Medical Equipment Financing
Your CareCredit health, wellness and personal care credit card makes it easy to get the home medical equipment you want or need. Our special financing options help fit expenses within your budget.*
Home medical equipment and supply purchases may have a high out-of-pocket cost depending upon your insurance coverage. With the CareCredit credit card, you can pay for the equipment and supplies you need for safety, convenience, and comfort away from the medical office or hospital. For purchases of $200 or more, you can select from a variety of special financing options that allow you to pay for your equipment over time, to help fit payments into your monthly budget.*
Home medical equipment and supplies are offered at a range of prices and options. With the CareCredit credit card you can make the choice that's right for you and pay for any out-of-pocket costs that insurance doesn't cover.*
You can also use your CareCredit credit card for dental, vision, cosmetic, and veterinary care at more than 200,000 healthcare provider and retail locations within our CareCredit network.* CareCredit can be used to help cover high deductibles, co-pays and co-insurance.*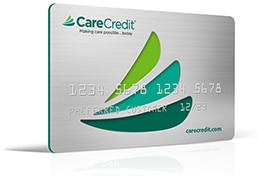 Here are just some of the items you can purchase using your CareCredit healthcare credit card.
Crutches, Canes & Walkers
Sleep Apnea Devices
Ventilators
Motorized Wheelchairs & Scooters
Hospital Beds
Life Chairs
Portable Oxygen Equipment
Driving Controls
Bath Safety Products - Grab Bars, Shower Chairs/Benches, Commode Chairs
Dialysis Machine
Nebulizers
Ventilators
* Subject to credit approval. Minimum monthly payments required. Not all promotional financing options are available at all enrolled providers. Ask yours for details.
Promotional financing options are not available at all retail locations that accept CareCredit and standard account terms will apply to such purchases.
Medical Equipment/Supplies Locations Near You
If your provider doesn't already accept CareCredit, you can refer them to us. We will contact them to discuss the benefits of accepting CareCredit financing for their patients and clients.