Using CareCredit for Dermatology Procedure Financing
Whether you are looking to improve the appearance of fine lines, undergoing medical skin treatments or purchasing medical skincare products, the CareCredit credit card is a comprehensive payment resource at your dermatologists' office.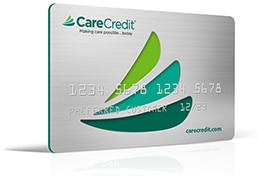 Here are just some of the dermatologic procedures that you can pay for with your CareCredit health and beauty credit card:
Dermatology procedures and treatments
Deductibles, co-pays, portions not covered by insurance
Skin exams and screenings
Laser and light therapy
Age spots
Chemical peels
Microdermabrasion
Spider vein and varicose vein treatment
Acne treatments
Psoriasis
Rashes
Mohs surgery and other FDA-approved skin cancer procedures
Aesthetic treatment of fine lines and wrinkles
Injectables and Fillers (Botox® Cosmetic, Dysport™, Xeomin®, Juvederm®)
Tattoo removal
Dermatologic skin care products
SkinMedica®
Obaji®
iS Clinical®
SkinCeuticals®
* Subject to credit approval. Minimum monthly payments required. Not all promotional financing options are available at all enrolled providers. Ask yours for details.
Promotional financing options are not available at all retail locations that accept CareCredit and standard account terms will apply to such purchases.
Dermatology Locations Near You
If your provider doesn't already accept CareCredit, you can refer them to us. We will contact them to discuss the benefits of accepting CareCredit financing for their patients and clients.
Articles
This content is subject to change without notice and offered for information use only. You are urged to consult with your individual advisors with respect to any professional advice presented. Your receipt of this material constitutes your acceptance of these terms and conditions.